Change Fulfillment Time
If for some reason an order needs to be rescheduled, the Order Fulfillment Time can be amended via the controls dashboard.
Please click here to follow a live tutorial.
Log on to your Dashboard as a store or owner user and navigate to Orders.
Search for the order in the Search Bar.
Select the order by clicking on the order Transaction Ref.
Click on the Delivery Tab.
Click the Pen and Paper icon under Change Fulfillment Time.


This will bring up a date menu which can be used to select an available date to reschedule the order.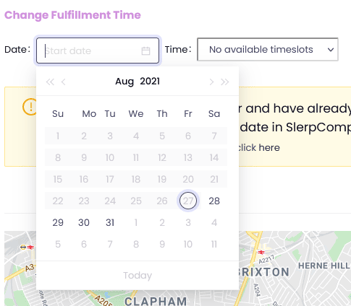 NB: The available rescheduling dates are limited to dates in which the store is open and any Special Closure Times will affect what days and times can be selected for rescheduling purposes.
Warning: If you use Slerp Composer and have already imported your order, you need to change the date in Sler pComposer as well.