Customers can only collect points offline by using the Slerp app and scanning a QR code in-store.
The specific QR code for each card is accessible under the Loyalty tab in the vendor app and can also be downloaded and printed off from Controls. The steps below will guide you through the process of generating a QR code in Controls:
Click the Loyalty button in the left-hand menu.
Click the Your Cards tab.
Click the QR code button to the right of the card.

Select the store that you want this QR code to apply to.
Select how many Points/Stamps should be awarded per scan.
Set the expiration time for the QR code. This feature will allow QR codes to be refreshed on a set time limit to avoid fraud.
Click the Generate QR button.

Click the Download button to download the generated QR code. You can then print it and keep it somewhere close to the till where it will be easily accessible for staff.

When a customer makes a purchase that satisfies the requirements to be awarded points/stamps, you can hold up the QR code and have them scan it via the Slerp App. This will then automatically award them the designated number of points/stamps. It can be useful to generate 2 QR codes (1 for single purchases, and the other for double purchases), so that the customer will generally only have to scan a single code in order to get their points.
NB: If the card in question allocated points per £ spent, we recommend keeping your Slerp tablet at the till and using this to dynamically create a code based on the amount spent.
Time-to-live QR codes or TTL QR codes:
This feature enables QR codes to automatically expire after a predefined time period. This functionality is implemented to prevent fraudulent use of QR codes.
To create a QR code on the Slerp vendor app, follow these steps:
Log into the app.
Choose Location then save.


3. In the side navigation menu, select 'Loyalty.'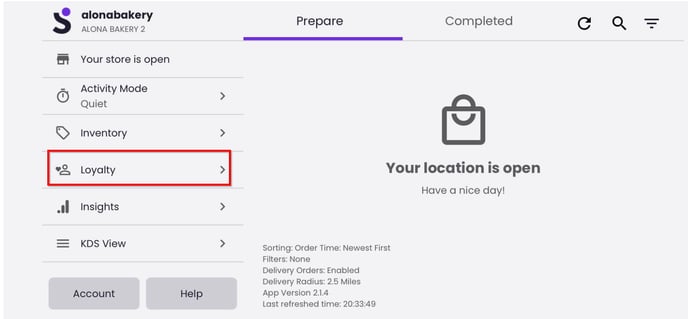 4. You will see the Loyalty Card/s, set the points.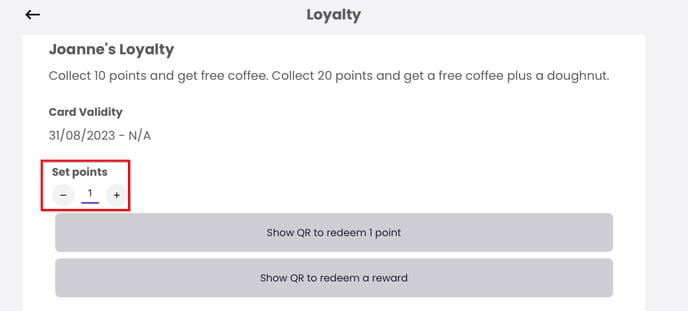 6. You can choose either Choose 'Show QR to redeem a point or 'Show WR to redeem a reward.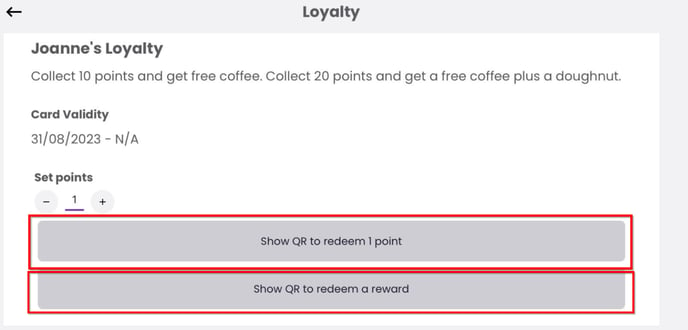 QR Code to collect a point:


QR Code to redeem a reward: