Your customers can now create their own personal and editable accounts for your SlerpSpace. By signing up and logging in, they can edit their contact details, view order history and save payment methods for a speedier, seamless, and more secure checkout experience.
Advantages:
Speed of checkout reduces drop-offs
Editable delivery and billing information for always up-to-date contact info
Build loyalty through targeted campaigns using customers' location, profile, order frequency, and history
Customers manage their own passwords
Tip:
Invite and incentify pre-existing customers to create accounts to prompt further sales.
This is a merchant-requested update by The Estate Dairy. If you have a product feature request drop us a line.

Customers will be prompted to log in or sign-up on your store's landing page.
When clicking 'Login/SignUp' they will be prompted with a login pop-up window. Here they can also reset forgotten passwords.
For customers with an account, your landing page will remember them and provide a 'View Account' option for quick access.
By clicking on 'View Account' they will be able to go in and see recent orders and deliveries as well as update their contact or card details and manage their password.
You will then be able to see created customer accounts in your dashboard when you select the 'Customers' tab.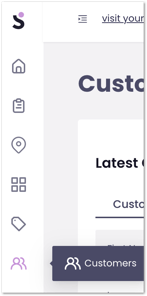 Set-Up Guide:
Step One:
Navigate to the 'Customers' section on your dashboard.


Step Two:
Next to the 'Export Customer' tab in the top right corner, toggle on the 'Accounts Creation Enabled' feature.

Step Three:
On the landing page of your store, your customers will see the 'Sign up or login' button above the delivery type.