Overview:
In order to prevent over-commitment of pre-orders during rush timeslots, you can enable an order limit on both the pre-orders and the same-day order reservations, allowing both sit-down, delivery, and collection customers to receive their orders on time. This feature provides you with the ability to open up or limit order availability by order type (delivery or pick-up) and fulfillment type (same-day or pre-order) for each of your stores. You can customize the limits based on on-site footfall, reservations, or demand, and can easily control how many orders you do per time slot.
You can enable order limit for 2 types of Pre-orders:
Pre-order delivery
Pre-order pickup
To get to the Order limit:
Click Locations from the dashboard in the side navigation bar
Select a location you want to access pre-orders
Click on the Settings button
Click on the PRE-ORDERS tab to access the Pre-order Settings
Click Enable delivery
Scroll down to the Order limit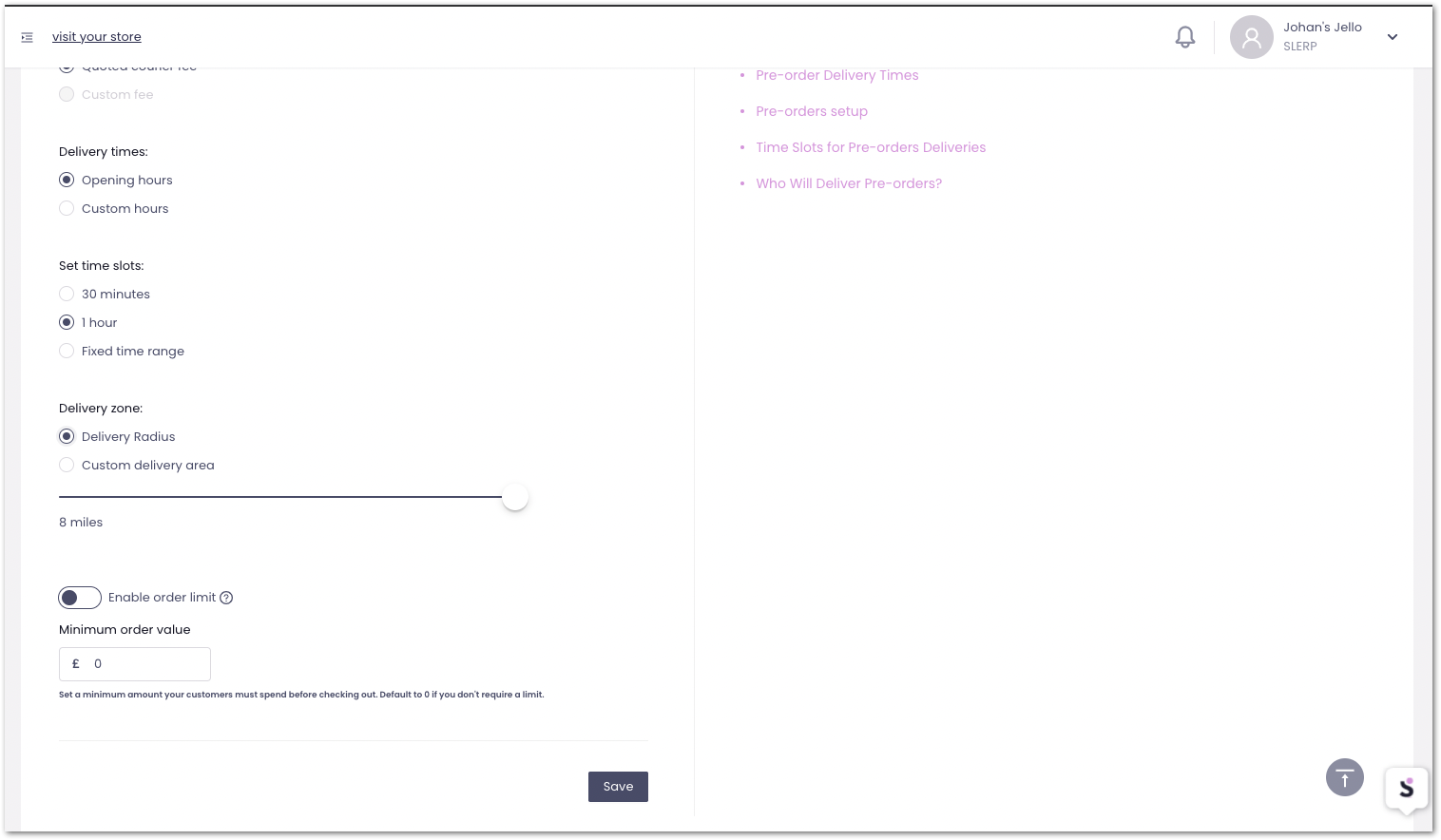 Experience:
Your customers will be prompted to the next available order time slot when your specified limit has reached capacity.
Example:
If you are working to '1-hour time slots' for delivery you can limit the orders to 10 per hour during peak service and when you're quiet you can adjust this to 20 orders per hour.
Advantages:
Can be adjusted live in service on the dashboard
Set capacity by order type meaning you can open up delivery while restricting pick-ups
Allows for order flexibility and better control to support your onsite operation
You can apply limits to pre-orders and on-demand (same day) independently and run in parallel
Slerp Hack:
Adjust your order limit by time slot throughout service to mirror the flow of your reservation allocations or output. Ensure that you let your team know that if the weather turns bad to open up order availability.
Contact support or your account manager to switch this feature on.