You can be set your preferred delivery vehicles via your Slerp Controls Dashboard.
1. You can choose to have all your orders delivered via Bike-Motorbike and/or Car-Van.
2. Vehicles can also be assigned to an order based on the basket value of an order. High basket value generally means that the delivery packaging will be bigger and may not fit into a bike/motorbike. if you expect you receive high basket value orders, it is strongly recommended you select a vehicle type by basket value.
Steps:
1. Log into Slerp Controls Dashboard.
2. Click on Settings
3. Select the Delivery tab
4. Enable Vehicle Settings for Same Day orders and Pre-orders.
5. Here you can assign a vehicle type by order value, i.e.
Bike = orders value £0 - £50
Motorbike = order value £51 - £100
Car/Van =order value + £101
6. Save.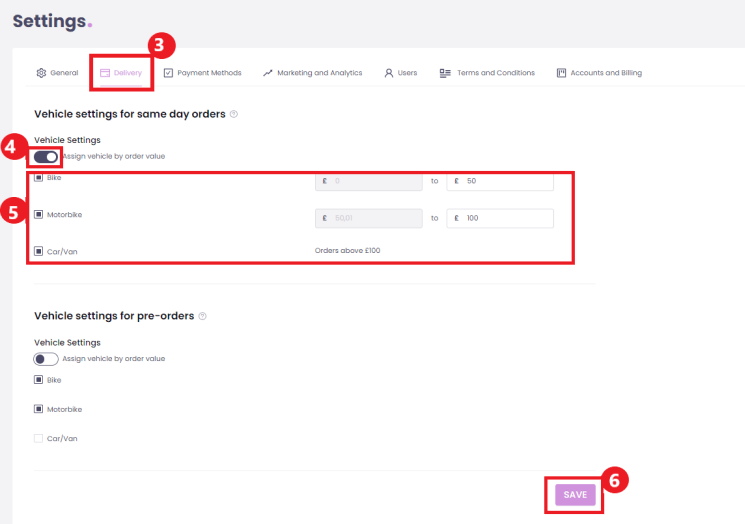 Once the settings are saved, the courier that matches one of the vehicles selected in your settings will be automatically booked for you.
You also have the opportunity to change the vehicle before accepting a new order.
Good to know: If you only have one vehicle selected in your settings, the time to find a courier will be longer. We recommend selecting bicycle and motorbike in your settings to widen your options, plus there are more bicycles and motorbike drivers than car drivers.