You can configure your SlerpSpace to accommodate customers who wish to pick up their orders. To edit this:
Please click here to follow a live tutorial.
Click into your store via the Location tab

Click on the Store's settings


Then Select Same-Day Orders and toggle Pickup on


Once Pickup is toggled on, you can edit pickup time slots and an order limit for Pickups. Remember to save once done.


You have now enabled pickups for the Same Day Orders!
To do the same for Pre-Orders, head back into that store's settings, select Pre-Orders, and toggle on Pickups there. For Pre-Orders, you'll need to specify pickup times, time slots, and an order limit there too.
Custom Hours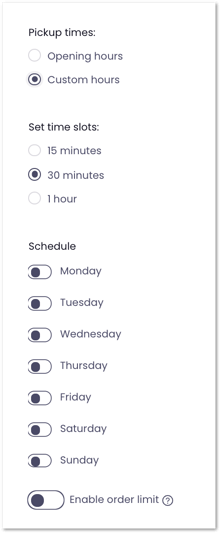 If you select Custom Hours, you are able to completely customize the time for your customers to pick up their pre-orders
You can toggle on each day (Mon-Sun) to allow customers to place pre-order pickups
You can select a start time and an end time so that pre-order pickups are scheduled within the time window
You can toggle any day off to prevent customers from placing pre-order pickups for that day