Prestige Cars and Couriers offer delivery within the M25. They can collect the orders and deliver same day with multi drops within a 4 to 5-hour window.
To set up with Prestige:
Reach out to Slerp Support to confirm your interest in Prestige.
Confirm the delivery days and cut-off times with Slerp and Prestige. Kindly take note that Prestige needs to receive all the bookings a day before the pickup and delivery.
Confirm if you would like to set a 4- or 5-hour window e.g. 12 pm to 5 pm (M25 needs to be 5 hours)
Confirm if you would like to enable a pickup option for your customers as well. If yes, advise the opening hours and timeslot (15 min / half-hourly)
Provide 3 working days' notice to Slerp to have the following completed:

Set up the bespoke delivery rate card for your customers (fill out the attached template)
Update delivery coverage to the London postcode map or M25 map
Pass on the delivery fees collected from customers (based on the rate card) to you
You'll be able to manage your delivery operations and orders via Slerp's Composer tool. Composer will allow you to download the list of delivery orders in a format that is compatible with Rush's platform, so you can ship your orders with one click. Speak to Slerp team about setting up your Composer account or find our more here.
6. Agree on the first delivery date with Slerp and Prestige.
Once set up with Prestige, the delivery process goes as such: after the cut-off has passed, you can follow the steps below to generate the Excel sheet to book deliveries with Prestige. They will need the Excel sheet a day before the pickup and delivery.
Download a CSV file of the orders to be collected by Prestige the next day via Composer
Save it as an Excel sheet (XLS / XLSX) and then email it to
aisles@prestigecarsandcouriers.co.uk and cc bookings@prestigecarsandcouriers.co.uk
Rates charged by Prestige
Prestige offers the following rates for London postcodes and beyond London to M25 areas.
Prices start at £12 + VAT per drop providing there are a minimum of 10 orders at any one time.
For London postcodes (map in the appendix):

10 or more drops: £14 + VAT per drop
5 to 9 drops: £14 + VAT per drop
Less than 5: £17 + VAT per drop
Note: The 10 or more drops rate is only applicable at a given time/date (you can't do five collections at 3pm and then another five at 5pm to make the minimum 10 drops). You can combine London drops and beyond London to M25 drops to hit the minimum 10 drops at a given time/date.

Beyond London to M25 will be charged £20 + VAT regardless of the number of drops
---
Slerp Delivery Coverage & Rate Card
The delivery rate card that you set on Slerp is based on the driven distance between the collection to the customer's address. We are advised by Prestige that typically the maximum distance between a central London location to the furthest London postcodes is 10 miles. As Prestige charges based on postcodes and not driven distance like the rate card, there's a chance that a 10-mile travel in one direction or a few may exceed the London postcodes area and hence be charged as £20 + VAT which is beyond London to M25 rate. So we strongly suggest that you refer to the London postcode map below when you set up the delivery rate card for your customers.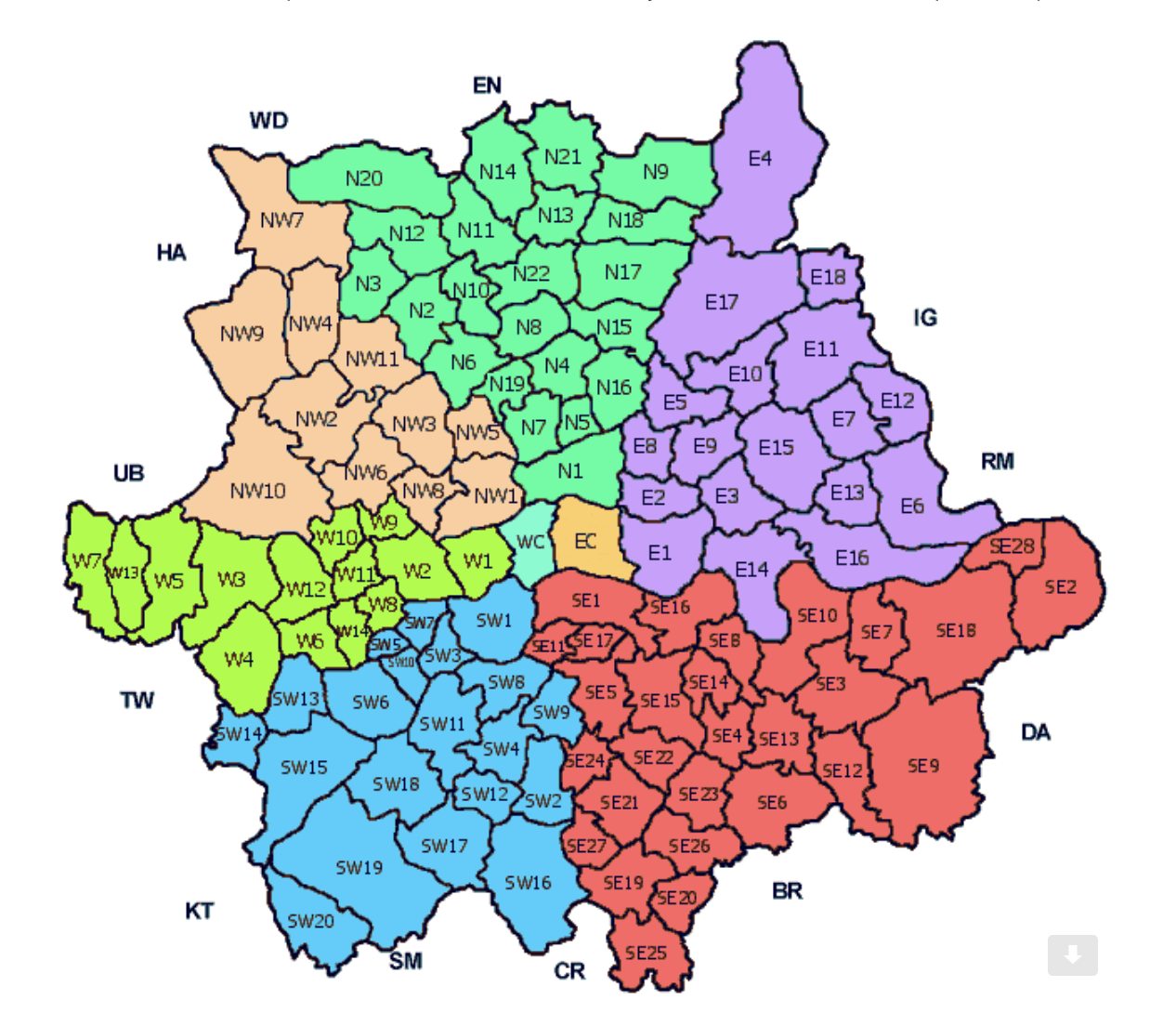 ---
FAQ:
Q: How can we make payment to Prestige?
A: You can make payment to Prestige via Direct Debit or Card payments per trip. Either is fine but if volumes are large then they would recommend the DD. You can set this up when you set up an account with Prestige
---
Q: Will the end consumer get any notification?
A: Prestige will deliver within the 4- or 5-hour window that you set (4 for London postcodes only and 5 for M25). You may track the couriers if you wish – Prestige can provide more information on courier tracking if you need it.
---
Q: Who should I contact when there are delivery-related issues e.g. customers asking where their parcels are, missing delivery, late delivery, etc.?
A: Anyone at Prestige can help as they have a dedicated control team and customer service. Just call 02073842300 anytime.
---
Q: What is the compensation process for damaged parcels / missing parcels / unacceptably late parcels?
A: Prestige doesn't have a structure in place because it very, very rarely occurs. They operate a common sense approach to any damages/loss and always try and appease their clients with complimentary deliveries where the end consumer isn't satisfied. Sadly, glass isn't insurable but their guys are very careful.
---
Q: Does Prestige offer refrigerated van service?
A: No. As it is a same-day pick-up and drop-off service, you can put in a gel ice pack to keep the food chilled if needed.