Deliveries can be handled by:
Slerp courier partners (Uber, Stuart, Ryde, Addison Lee)
Others (Own fleet or 3rd party logistics)
To get to this setting:
Click Locations from the dashboard in the side navigation bar
Select a location
Click on the Settings button
Click on the SAME DAY ORDERS or PRE-ORDERS tab to access the Delivery settings
Enable Delivery
The courier setting will appear as below:
Image of settings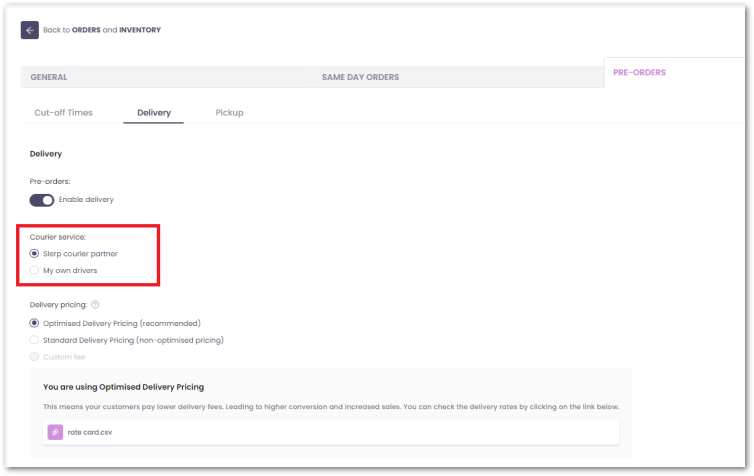 Slerp Courier Partners
Deliveries are handled by Uber, Stuart, Ryde, or Addison Lee through an automatic integration. As soon as you accept the order, the delivery request is sent to one of the couriers. A rider will come and collect the package at your store and deliver it to the end customer.
The delivery fee paid at Checkout goes to the Courier Partners fro their delivery service.
To learn more about Courier Partners delivery fees for Last mile deliveries, please check the info here.
My Own Drivers
Select this option if you want to handle deliveries yourself

You are using your own fleet of vehicles and drivers
You want to use a different courier partner

In this case, the delivery fee paid by the end customer at Checkout goes to you (the partner) who will be responsible for paying your own fleet or couriers.